The Grosse Scheidegg is an amazing beutiful mountain pass in the Bernese Alps of Switzerland. The 1,962 m (6,437 ft) pass is traversed by a road connecting the town of Meiringen with the village of Grindelwald. The road is closed to most traffic, but is used by a PostBus Switzerland service from Grindelwald to the summit of the pass, with some buses continuing to Meiringen.
On the Meiringen side, the approach to the pass runs through the valley of the Reichenbach stream above the Reichenbach Falls, best known as the place of the last fight between Sherlock Holmes and Moriarty in Arthur Conan Doyle's story titled "The Final Problem."
Aside from tourists, hikers, and cyclists using using the Grosse Scheidegg, the area is used for alpine agriculture. You'll see lots of happy cows and I found myself in a herd of goats on the Grindewald side.
Climb Stats
Susten Pass (Innertkirchen)
Distance: 27.7
Ascent: 1602 meters
Average Grade: 5.8%
Grosse Scheidegg (Meiringen)
Distance: 16.4
Ascent: 1262 meters
Average Grade: 7.7%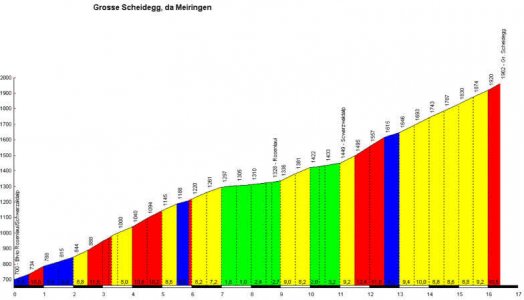 I started the day by driving to the top of Susten Pass and departing from the parking lot because the east side of Susten Pass had less interest to me than the west side, and also the Grosse Scheidegg, which was the big prize of the day.
To Ride or Not to Ride
This was a very special day and I wouldn't change a thing except perhaps I would have continued all the way to Grindelwald rather than the half way descent that I did. But it was really steep and I was pretty tired and still had a long way to get back to the car. Aside from that, I'm glad I skipped the east side of Susten Pass.  I drove it I was able to see it and though it would be nice to ride, the better riding is on the west side of Susten and of course the fantastic, amazing, awesome Grosse Scheidegg.
Strava Map from this Ride